The world of meme coins is currently dominated by two prominent contenders – Dogecoin and Shiba Inu. While both of these coins enjoy a significant following, a constant battle persists between the two regarding their superiority. Despite Dogecoin being the pioneer of meme coins, Shiba Inu has been making considerable efforts to surpass its rival.
One of the key factors impeding Shiba Inu's progress with Dogecoin is its price. To tackle this issue, Shiba Inu has introduced the burn initiative, wherein a fixed number of tokens or coins are transferred to inactive wallets. This approach aims to reduce the overall supply, induce scarcity, and consequently drive the price upwards in the long run.
Give it a read: Euler Finance Hacker Returns ETH from $197 Million Hack
Recent updates from Shibburn reveal a remarkable surge in Shiba Inu's burn rate, which has risen by an astonishing 1,500% within the last 24 hours.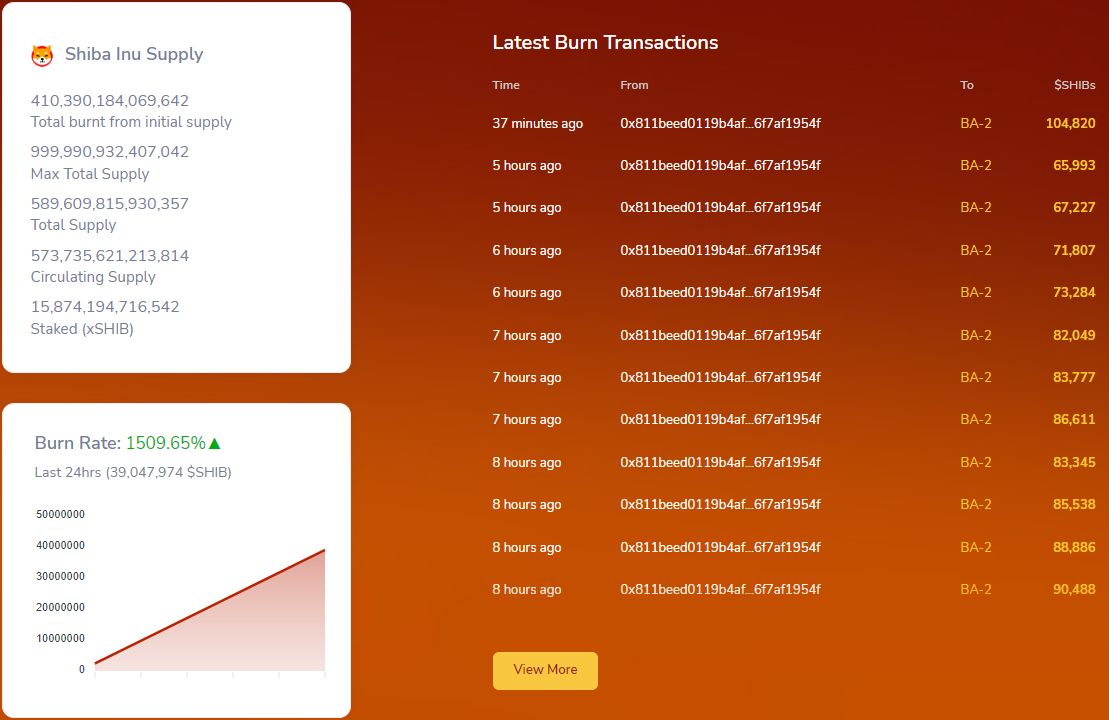 39 million Shiba Inu sent to dead wallets
Shibburn has revealed that over 39 million SHIB have been sent to dead wallets in the last 24 hours. This is in fact less as compared to last week's burn numbers. Over 451 million SHIB were sent to dead wallets on March 14 alone. Another day even witnessed the burning of 591 million SHIB to dead wallets.
The developers had previously announced that the introduction of Shibarium would facilitate an increase in the burn rate. Since the beta launch of Shibarium, the burn rate has exhibited a steady upward trajectory.
However, the soaring burn rate hasn't affected the price of SHIB significantly. At press time, Shiba Inu is trading at $0.000011, with a 1% spike in value over the last 24 hours. The meme coin is also only up by 5.13% during the last seven days. This is comparatively less as opposed to the growth of other coins, which has exhibited single- and double-digit gains.